---
Hello there LEGO community!
I'm glad I have an opportunity to present you, one of the first reviews, of the newest LEGO Chess editon sets. And this time is Pirate themed!
It's the first

Pirate Chess set since 2009

and just to give you a clue how that one looked like, here's an image from Brickset: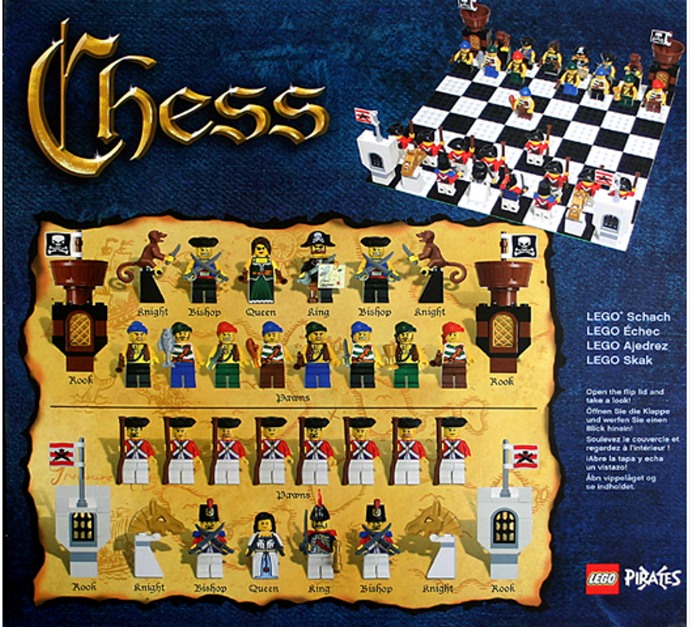 =============

OK! Let's see what the new one has to offer, shall we?

40158 Pirates Chess
Price: 450 kn (LEGO Store Zagreb, Croatia) = cca. 59,99€
Pieces: 857
Minifigs: 20
Minifig quality: Well, continue to read and find out!


First, the box:
A very nice box, with a clear yellow background. Really refreshing compared to the other sets in general.


Notice how easy is to keep your figs from dust and to take set a part for space saving purposes.



Here are the numbered bags. Basically Number 1 and 2 for Pirates, Number 3 and 4 for Soldiers. Two booklets.
After building the set by myself, I would suggest building the set with someone, sine each booklet is for different side and the building process is the same.



OK, let's get to business! 10 minifigs per side. Basic bricks but in large quantities, very MOC friendly and (of course) Army build set.



I took following pictures because set doesn't have many unusual parts and just one SNOT build


You get a lot of plates. In picture only half of what you get (the other part is the same)



Let's build desert island, first of two "themed" additions to chess board



AND HERE ARRRR THE PIRATES!
I'm satisfied that pirates have different torsos, legs and heads. I'm not a big fan of the bandana colors, especially whit ones, but not a major issue.
What I do resent is the lack of a skull head on Captains pirate hat! I really miss it and I don' understand why they didn't print it.


Two alternative faces


There's has been a lot of discussion about Kingdoms Chess minifig quality. I'm happy to say that Pirates Chess has high quality minifigs!


Let's build the first half of chess board.
Yep, a lot of tiles


These look pretty neat

And this is how the storage looks like without chess board



And here are the pirates on the board.



Let's get to the other side. Soldiers are next!
Few interesting pieces and a nice way how to build a chess board while sitting on sofa


Here are the minifigs. Looking good, but the Captains wife (?) has a old torso and old hair piece. Oh well.. Not a major problem compared to Pirates Captains hat.

Only 1 alt face



Here are the Soilders ready for mind fight!


And here is the full set in it's full glory.



RESULT:
Few facts:
This is my first Chess set. I love pirates, but I'm not a army builder. I bought this set cause the price was decent and it looked like the best way to get a stock of pirate minifgs, since I don't have intention buying any of the standards sets.

Overall:
The set isn't spectacular, but it offers a lot of playability and it's a decent value for your money. The biggest plus is the top quality of the minifigs and a lot of bricks separated in couple of lots. If you need bunch of tiles, this is the set to go with.

What I don't like about this set are the brick build chess figures. None of them doesn't even closely represent the standard look of a chess figures and I think it can get pretty confusing which figure is which once you start playing. Maybe it takes time to ajust, but still.. I would prefer if they were more suggestive.

Grades:
Building: 2/5 - better in two
Value for money - 4/5


Overall: 4/5



Thank you for sticking till the end!


indeksirano